Party Boat Cruises
Looking to make your party one to remember? That's easy – make your special event memorable, fun and impress your guests by hosting your party on board a private yacht. All charters can be tailored to suit your needs and budgets.
Birthdays
Hens
Bucks * strict conditions apply
Proposals and Engagements
Anniversaries
Family events
Wakes, funerals and ashes scatterings
Christmas gatherings
Group Valentine day cruise
Themed party ideas – Adults only
Pirate
Gilligan's island
Nautical
Davey Jones Locker
Under the Sea
Mermaids & Mermen
Corporate, business and sporting club events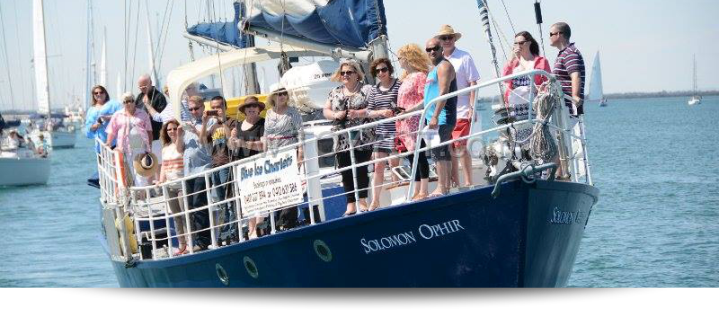 A great way to reward your staff, business colleagues, customers and team members. Relax & watch the sunset while enjoying your favourite drink & canapé – does life get any better than that.
Staff Christmas party
End of season sporting club celebration
Team bonding outing
Sporting Grand final – Premiership celebrations
Special events – Private yacht venue
Twilight – Sunset cruises
High tea on the high seas
Cocktail parties
Wine tasting cruises
Wedding photography cruises
Charity fund rising venue
Romantic escapes
Sleep afloat experiences – Bed & Breakfast cruise
If the sirens call has set your compass seaward then we have a selection of sailing adventures to tempt you. Unique bed & breakfast accommodation or overnight, weekend or longer sail/cruising destinations.
Squadron bed & breakfast
Port River – Port Adelaide 1 night weekend escape
Port Vincent 2 night weekend escape
Living your dream escape – personalised weekend escape
Weddings & Commitment Ceremonies
Create a unique wedding that will delight your guests. Private & intermate venue for your wedding or commitment crememony. Exchange your vows encircled by the sounds of the sea. Romantic & unique setting for your wedding photographs. Arrive in style for your wedding ceremony at the RSAYS aboard your private yacht.
Wedding ceremony and cocktail reception
Wedding party photograpy
Guests welcome cocktail cruise
Commitment ceremony and reception
Wedding party cruise
Bridal party arrival cruise
Scuba Diving
South Australia with its temperate waters is a great place to spot some fantastic underwater creatures, like the beautiful Leafy Sea Dragons. Solomon Ophir has a Bauer K14 11.2 CFM air compressor on board for dive tank air fills
Dive sites on request
Day outings or overnight live aboard
Dolphin and Seal watching
Dolphins are one of this planets most fascinating & curious creatures. Seals are the puppy dogs of the seas. Come and join us for a few hours to watch these amazing marine creatures in their natural habitats.
Gather your family and friends together to enjoy a day out on your private yacht.